Payment Methods & Pricing
Pricing
All prices listed on the website are in British Pounds Sterling.
Please, refer to the currency converter below to be able to convert British Pounds (GBP) into your local currency.
Please, do bear in mind that currency exchange rates may vary slightly from one day to another; always make sure you convert your total amount, as shown in your cart, on the same day you intend to purchase.
Note: Currency converters will give you an approximate calculation only, some slight variations are possible due to banks' different exchange rates.
Disclaimer: It is your responsibility as a customer to ensure enough funds are available ether in your PayPal account or in your bank account to cover the full amount, as per your purchase invoice, after conversion from GBP to your local currency. PayPal may charge a small currency conversion fee for the purchase depending on your local currency.
Payment Methods
Here at Cheeky Chica® Hair we value greatly the privacy of our customers and we endeavour to offer you a checkout system that is 100% safe and secure. Rest assured, as no card information is ever retained or saved by Cheeky Chica® Hair and it remains the sole and private property of the card holder at all times before, during, and after the product purchase. None of your information is ever shared with any third parties.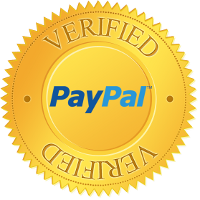 With the assistance of PayPal, we offer easy, instant, and completely safe eCheque and card payments from all major credit or debit cards, including Visa, MasterCard, Discover, and American Express. Used by millions of people daily, PayPal is a heavily encrypted third party payment processor, this confirms the checkout payment is completely safe and secure.
You are not required to have a PayPal account to be able to use their payment service.